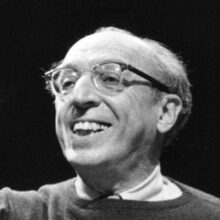 Aaron Copland was an American composer, conductor, and music critic who is generally considered to have been one of the greatest and most influential American composers of the 20th century. His music is known for its distinctive style that combines the classical tradition with elements of American folk and popular music, creating a unique sound that reflects the spirit of American life and culture.
Copland's early works were heavily influenced by jazz and modernist composers such as Stravinsky and Schoenberg, but he later developed a simpler and more accessible style that emphasized clarity, melody, and rhythm. Perhaps his best-known works include the ballets "Appalachian Spring" and "Billy the Kid," the orchestral suite "Fanfare for the Common Man," the concertos for piano and clarinet, and the film scores for "Of Mice and Men" and "Our Town."
Copland was also an influential teacher and wrote several books on music theory and criticism. He has been called the "Dean of American Composers".
He was born in Brooklyn, New York, on November 14th 1900. He died in Sleepy Hollow, New York on December 2nd, 1990.
---
---
Music Plays from my collection
(since January 9th 2021)
| Date of Play | Time of Play | Genre | Composition | Length | Play Count |
| --- | --- | --- | --- | --- | --- |
| Date of Play | Time of Play | Genre | Composition | Length | Play Count |