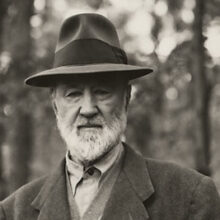 Charles Ives was born in 1874 and died in 1954 -which makes him an almost exact contemporary of Ralph Vaughan Williams. Unlike Vaughan Williams, however, there is nothing of the pastoral, idyllic and folksong about Ives' music! Rather, he developed experimental music, with polytonality, polyrhythm, tone clusters and quarter tones. That lot makes his music a bit of a challenge to traditional ears (and probably explains why a lot of his music was not performed in his own lifetime). It also makes him, in my view, far more a cousin of Percy Grainger than anyone else I can think of: both composers have a habit of, if they start off with a tune at all, veering it off in unexpected directions, with lots of crazy-sounding layering.
Putting it bluntly, mentioning Charles Ives can instil a sense of dread in some people (myself included for many years), but he's worth listening to, if only for the sense of what an unbridled imagination can do in music!
His output was not enormous in any genre, so it's not too difficult to get familiar with quite a lot of it fairly quickly. But what might be considered his 'core' or most important and characteristic works is suggested here, along with recommended recordings (with thanks and acknowledgement to Simplicissimus at TalkClassical for putting it together). In the following list, hyperlinks on the work name take you to performances of that work on Youtube so you can get an instant 'flavour' of the music, but those Youtube performances will usually not be by the performers whose recorded performances are the one recommended in brackets after the work's name. Hyperlinks on those suggested recordings take you to the relevant page at Presto Classical, where you can buy them!
Symphonies
Orchestral Works
Chamber Music
Piano Music
---
---
Music Plays from my collection
(since January 9th 2021)
| Date of Play | Time of Play | Genre | Composition | Length | Play Count |
| --- | --- | --- | --- | --- | --- |
| Date of Play | Time of Play | Genre | Composition | Length | Play Count |