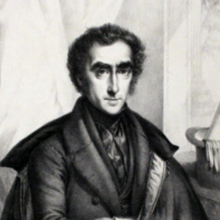 The New Groves lists this composer in a rather complicated way: (Philip) Cipiriani (Hambly) [Hambley] Potter ...and the rich mix of brackets, square and round, and spelling variations tells us that, for safety's sake if nothing else, plain Cipriani Potter it must be!!
Despite his first name, he was an English composer, pianist and music teacher, having been born in London in 1791. He went on to die in the same city in 1871.
The entire Potter clan were sort-of English Bachs: a family of musicians dating back to the early 18th Century: this particular Potter was their most distinguished member, though.
He was a member of the Philharmonic Society by 1815 and was commissioned by the society to compose two new works in 1816: a bit of an achievement since the Society so rarely bothered to commission anything by mere English composers.
He travelled to Vienna in 1817 and met Beethoven, who was to write of the occasion that "Botter [sic] has visited me a few times and seems to be a good fellow and has talent for composition". He went on to study with Aloys Förster at Beethoven's suggestion, and Beethoven looked over and advised on some of Potter's scores.
He returned to England in 1819 and thereafter was mostly known as a brilliant pianist and conductor. In 1822 he became a member of the newly-created Academy of Music and became its principal in 1832, a position he retained until 1859. He thus slid gracefully into compositional oblivion largely because he chose the roles of administrator, performer and teacher over that of composer. Indeed, he had practically stopped composing altogether by 1837.
Nevertheless, there are nine symphonies extant, along with three piano concertos and a whole slew of solo piano works. New Groves declares of the symphonies that they 'all have a forward drive, harmonic ingenuity, playful use of dissonance, and much counterpoint and strict imitation'. Indeed, Wagner conducted the second symphony in 1855 and said of the composer that he was clearly an 'amiable, elderly contrapuntist'.
---
---
Music Plays from my collection
(since January 9th 2021)
| Date of Play | Time of Play | Genre | Composition | Length | Play Count |
| --- | --- | --- | --- | --- | --- |
| Date of Play | Time of Play | Genre | Composition | Length | Play Count |