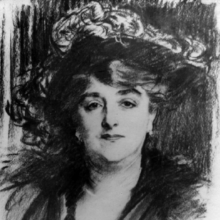 Dora Bright is unique in my collection, in that she is (as far as I am aware) the only composer in it that does not get a mention in the New Groves dictionary of music and musicians (1980 Edition). I even checked my 1940 edition to she if she was less obscure back then, but drew a blank there as well! I also searched for her under her married name ("Knatchbull"), but she's not listed under that in either edition, either.
She was born in Sheffield in 1862 and lived to the advanced age of 89, eventually dying in Babbington, Somerset in 1951 (her former home is now a luxury hotel!) She attended the Royal College of Music in London in the 1880s, and became the first woman to receive the Charles Lucas Medal for composition there in 1888 (for a set of variations for string quartet). Her real claim to fame around then, however, was as a concert pianist: she toured Germany to some acclaim between 1889 and 1892, for example. In 1886, she even met Liszt after one of her performances in London: he is said to have called her playing 'wonderful'.
She married in 1892 (to Wyndham Knatchbull, a man who was some 33 years her senior), at which point her concert performances tailed off, she moved to Babbington and spent her time organising amateur music performances for the locality. Her husband died in 1900, leaving her the typical 'wealthy widow', at which point she concentrated on her composing once more, producing quite a number of songs and ballets.
Her works were performed before King Edward VII in 1904, at the Proms in 1917, and on the BBC as late as 1939. However, she slipped into obscurity pretty much as soon as World War I broke out and never really came out of it. By the time of her death in 1951, she was barely remembered and most of her music disappeared with her: very few of her compositions survive. Stylistically, they could be said to bear a strong resemblance to Grieg or Tchaikovsky: great originality was not, it has to be said, one of her strong points!
---
---
Music Plays from my collection
(since January 9th 2021)
| Date of Play | Time of Play | Genre | Composition | Length | Play Count |
| --- | --- | --- | --- | --- | --- |
| Date of Play | Time of Play | Genre | Composition | Length | Play Count |