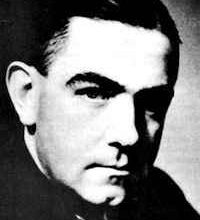 Not a name anyone really conjours with these days, I'm afraid: he's almost totally forgotten, especially as he died quite young (his dates are 1903-1939). He was the son of the organist of the Hallé orchestra in Manchester and was therefore 'into' music from a very early age. His output was allegedly prodigious, but much of his work is now apparently lost. He's known, if at all, these days for a bassoon concerto and the occasional orchestral tone poem.
He was actually christened Charles William Eric Fogg, but the 'Charles William' are bracketed by New Groves, indicating that the chap never really used them himself. We can see proof of this in a couple of historical records.
First, here's a newspaper clipping announcing his win in a song competition: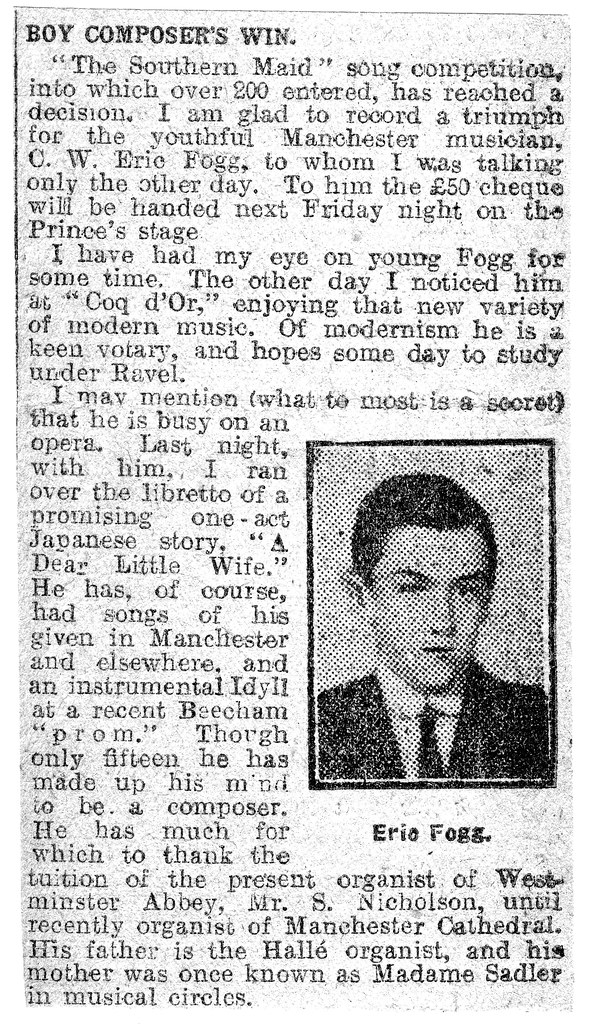 The text mentions him as being 'only fifteen...': the clipping is therefore from around 1918. He was certainly aware of his additional names at that time... but was already consigning them to mere initial letters. The photo caption drops all mention of the first names, of course. Secondly, and dating from perhaps 10 years later, we have this signature card:
...where we see him signing only as Eric. The mention of 'Uncle Eric', incidentally, is because Fogg became something of a BBC radio personality in the 1930s on the Children's Hour program.
His life was terminated quite early, curiously enough, at a railway terminus: Waterloo Railway Station, to be precise, in 1939, just after the outbreak of the second world war - though it was in the Underground station, not the overground terminal. He was supposed to be catching a train to Brighton, to attend his own second wedding. For some unknown reason, rather than catching a train, he ended up under one's wheels. The coroner recorded an open verdict: no-one is sure whether his fall onto the tracks was accidental or deliberate. It has been speculated (by Fogg's own son, to name but one) that Fogg was particularly depressed at the outbreak of the second war, as he'd lost good friends in the first.
---
---
Music Plays from my collection
(since January 9th 2021)
| Date of Play | Time of Play | Genre | Composition | Length | Play Count |
| --- | --- | --- | --- | --- | --- |
| Date of Play | Time of Play | Genre | Composition | Length | Play Count |