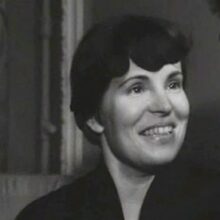 Born in Petrograd in 1919 (now St. Petersburg once more, of course), and died in the same city in 2006. She was a pupil of Shostakovich, but is said to have moved on from his influence to end up writing music with, as New Groves puts it, 'a pathetic, declamatory quality comparable with Mussorgsky and Mahler'. On the other hand, the same source declares her to have managed to 'remain independent of current compositional techniques', and instead writing 'lines unconstrained by conventional formal patterns or by tonality'. From which I deduce she might be a bit of a struggle to listen to -or, at least, on the whacky side of the spectrum! (One listen to her Dona Nobix Pacem from 1970/71 for apparently random tuba and even more random notes on the piano confirms this suspicion, I think 🙂 )
Her piano concerto dates from the Shostakovich-influenced years, however, and is short, perhaps conventional, but rather exciting to listen to.
New Groves declares her to be "Galina Ivanova Ustvol'skaya", but the apostrophe (or stress mark) is not functionally required and neither is the patronymic widely used as far as I can tell. This site therefore drops both.
---
---
Music Plays from my collection
(since January 9th 2021)
| Date of Play | Time of Play | Genre | Composition | Length |
| --- | --- | --- | --- | --- |
| Date of Play | Time of Play | Genre | Composition | Length |