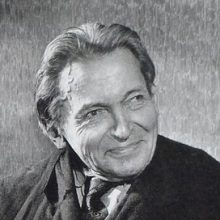 Widely regarded as Romania's greatest-ever composer, born in 1881 and died in 1955. Curiously, The New Grove lists him as dying on "3 or 4 May 1955": it seems a little odd to be quite so casual about a death-date that far into the 20th Century! Other sources are less vague: the Encyclopaedia Britannica declares him dead on 4th May, for example).
His town of birth (Liveni Vîrnav) was renamed to be 'George Enescu' in his honour. He died and is buried in Paris, in the famous Père Lachaise Cemetery.
Before 1914, he was mostly a teacher, virtuoso violinist and music organiser (setting up composing competitions in Romania, and founding the Romanian Composers' Society, for example). His mature music only really started to be written from the 1920s on. It is characterised by echoes of Romanian folk music, sophisticated chromaticism and thematic transformation. The New Grove says of his work that it is "richly varied [with] textural and expressive results [stemming from] ethereal, ghostly violin harmonics [...] and pounding note clusters".
---
---
Music Plays from my collection
(since January 9th 2021)
| Date of Play | Time of Play | Genre | Composition | Length | Play Count |
| --- | --- | --- | --- | --- | --- |
| Date of Play | Time of Play | Genre | Composition | Length | Play Count |