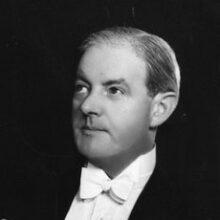 Born in Hillsborough (Northern Ireland, though that political entity didn't actually exist at the time: he would have just called it 'Ireland') in 1879, and died in Brighton (very much England!) in 1941. He was knighted in 1925 and is thus more formally known as 'Sir Herbert Hamilton Harty' -but the New Groves has the 'Herbert' in brackets, indicating that it's use is considered optional: it is not therefore used in these pages and you won't generally see it used anywhere else, either. Obviously, too, this site almost always refuses to use titles composers may have acquired during their lifetimes, so there's no 'Sir' in these parts, either!
He wrote some of his first pieces in the early 1900s, having moved to London. These were received reasonably well at the time: his Comedy Overture (premiered at the Proms, 1907) was a particular success. Around this time, too, he began to act as accompanist (marrying one of his soprano soloists, into the bargain). He also started his conducting career during these pre-World War I years, often with the London Symphony Orchestra (LSO). It is said that his conducting was as spectacularly good as his accompanying: on one occasion, conducting a piano concerto, the pianist skipped two bars in error, but Harty was able to get the orchestra to adjust in real time and thus managed to keep the show on the road.
During the Great War, he began conducting the Hallé Orchestra in Manchester: he was appointed its permanent conductor in 1920 and (according to the New Groves) proceeded over the next 13 years to make the Hallé "probably the best orchestra in England", giving the first performance in England of Mahler's 9th Symphony, for example, in 1930 and Shostakovich's 1st Symphony two years later. He certainly seems to have had a wide and adventurous repertoire for the time, anyway. Sadly, he fell out with the orchestra in 1933 and thereafter he concentrated on work with the LSO once more. His health deteriorated in 1936, however, with the discovery of a brain tumour, the removal of which meant also losing one of his eyes. He did bounce back sufficiently to conduct during 1939/40, but the re-occurrence of his cancer thereafter ended his career in December 1940, with his death occurring shortly thereafter. He was only 61. His ashes were interred back in his native Hillsborough (specifically in the Church of St. Malachi there, though their current website seems to be unaware of this fact, sadly. I've written to them [July 2023], asking if they plan to memorialise him in some way soon-ish. I'm not expecting much by way of reply, but let's see, shall we?! [Still waiting...]).
Of his several compositions, the New Groves opines that they "deserve to survive, for they are attractive" -which isn't the ringing-est endorsement I've ever heard, though I'd agree with its general sentiment!
---
---
Music Plays from my collection
(since January 9th 2021)
| Date of Play | Time of Play | Genre | Composition | Length | Play Count |
| --- | --- | --- | --- | --- | --- |
| Date of Play | Time of Play | Genre | Composition | Length | Play Count |