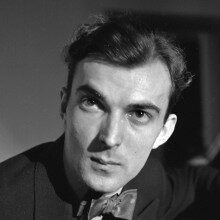 Igor Markevitch is probably best known as a conductor, but he was no slouch in the compositional stakes, either. He was born in Kiev in 1912, which today would make him Ukrainian, but was then part of the Russian empire and would soon become the USSR. His parents were Russian, but when he was only two, the entire family decamped first to Paris, France and then, after another couple of years, to Vevey, Switzerland, where he then lived most of the rest of his life (he died in 1983). Just to make things even more confusing, New Groves describes him as an 'Italian conductor and composer'). Pick a nationality, I guess!
He moved back to Paris when he was 13, in order to study composition under Nadia Boulanger. Diagilev came to hear of him and commissioned a piano concerto and ballet from him, though his death in 1929 put an end to further collaboration. He continued composing until 1941, after which -perhaps due to a serious illness- he decided to eschew further composition work and, instead, to concentrate on his conducting career, which had begun in 1930. His compositions were subsequently neglected by himself and everyone else, until in the 1970s he started conducting performances of them once more.
In recent years, much of his compositional output has been recorded and been met with considerable critical acclaim once more.
---
---
Music Plays from my collection
(since January 9th 2021)
| Date of Play | Time of Play | Genre | Composition | Length | Play Count |
| --- | --- | --- | --- | --- | --- |
| Date of Play | Time of Play | Genre | Composition | Length | Play Count |