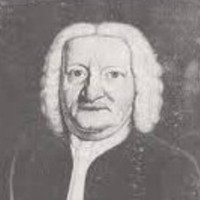 An obscure German composer who doesn't even merit his own English-language wiki page! He was born "before 1638" in Peine, which is near Hanover and due south of Hamburg, in Germany. The 'before 1638' terminology indicates that we don't have any good sources for a specific birth date. He is definitely known to have died in 1697, however, in Flensburg, which these days is on the German side of the German/Danish border.
He is documented as the Director of Music of Brunswick-Lüneberg in 1677, based at Bevern Castle (which is sort-of triangulated midway between Hanover and Bielfeld). He seems to have been imprisoned in 1678, though, and to have escaped into the service of the Bishop of Lübeck... which is, presumably, how he ends up living (and eventually dying) in the Danish peninsular region.
Not much of his music survives: a handful of Church Cantatas in the style of Buxtehude, and some instrumental sonatas. The New Grove says of his cantatas that 'they are technically competent but tend to be virtuoso rather than expressive works'.
---
---
Music Plays from my collection
(since January 9th 2021)
| Date of Play | Time of Play | Genre | Composition | Length | Play Count |
| --- | --- | --- | --- | --- | --- |
| Date of Play | Time of Play | Genre | Composition | Length | Play Count |