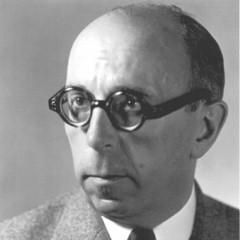 A curious-looking man, Marcel Poot was born near Brussels (Belgium, for our non-EU-familiar friends) in 1901 and died in 1989 (also in Brussels), meaning he was alive when my edition of the New Groves was printed! He is barely known outside of Belgium (for good reason: his music is not, I think, particularly inspiring or spectacular!), but is apparently quite well-known within it -which might unkindly be thought to be a consequence of not many composers at all, whether good or bad, coming from that particular country in the first place!
His output is quite small, in any event, with the New Groves declaring his orchestral music superior to his vocal, and with the best of his orchestral music being 'strongly rhythmic and essentially tonal... brilliant and vigorous in style, close to middle-period Stravinsky, or more particularly to Prokofiev.
My own small collection of his music arose in the mid-2000s after I attended a concert evening with Dame Edna Everidge at the Sydney Opera House. Dame Edna's alter ego, Barry Humphries, happens to have a large collection of Poot's manuscripts, bought cheap in a second-hand shop somewhere in Belgium, if I remember correctly. He mentioned this to the audience for some reason... the name stuck in my head... and I accordingly went hunting for recorded examples of it for myself. Had it not been for that singular introduction to the fact of his existence, I doubt I would have gone out of my way to try to make the acquaintance of his music!
Perhaps unsurprisingly, in light of my comments above, Poot has been repeatedly relegated to my overflow area (which I seldom play or catalogue properly). He nevertheless always seems somehow to earn a place back in the main collection. He was last relegated because I found his symphonies entirely non-memorable, but his last re-promotion back into the main collection was earned by his octet, which I found appealing and charming.
---
---
Music Plays from my collection
(since January 9th 2021)
| Date of Play | Time of Play | Genre | Composition | Length | Play Count |
| --- | --- | --- | --- | --- | --- |
| Date of Play | Time of Play | Genre | Composition | Length | Play Count |