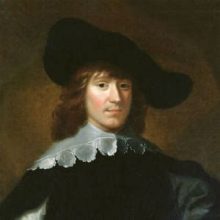 Having never even heard of William Lawes before, I was slightly astonished to discover that his entry in the New Groves extends to over 7 full pages: that's an unusually long article for any composer (Shostakovich only rates 10-and-a-bit, for example), but for an obscure English composer from the early part of the 17th Century, it's practically unique!
William Lawes additionally has the distinction, for me, of being about the only composer in my collection who was shot dead by Parliamentarian forces in the middle of the English Civil War (1645). No-one knows what happened to his body... but King Charles I was upset enough to posthumously declare him to be 'Father of Musick' (though seemingly not upset enough to have him buried decently! I guess it was war-time!)
He was born in Salisbury in 1602, and thus died unfortunately young. After his death, he immediately fell into considerable obscurity which lasted pretty much until the 21st Century, when his extensive writing for viol consort was essentially re-discovered and recorded. Linn has a very good recording of a large set of them, for example.
---
---
Music Plays from my collection
(since January 9th 2021)
| Date of Play | Time of Play | Genre | Composition | Length | Play Count |
| --- | --- | --- | --- | --- | --- |
| Date of Play | Time of Play | Genre | Composition | Length | Play Count |