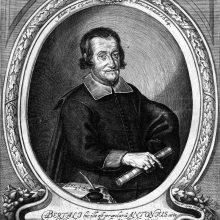 Born: around March 1605
Died: 17th April 1669 (aged 64)
Bertali was Italian (born in Verona, then part of the Ventian Republic). He was principally a violinist, becoming a member of the Accademia Filarmonica of Verona in that capacity in February 1624 (when he was 18, approaching his 19th birthday). Soon after that, however, he moved to Vienna, where he became a court musician to the Holy Roman Emperor, Ferdinand II. He obviously acquired a reputation as a good composer, since he was frequently commissioned to provide music for specific and important occasions -such as a Requiem for the death of Ferdinand II in 1637.
In October 1649, however, aged 44, he was appointed Kapellmeister, in which capacity he composed extensively -particularly operas, though he also composed plenty of sacred music. Unfortunately, almost half of his compositions no longer exist, though they are known about because they are listed in a catalogue of Leopold I's private collection.
These days, recordings of Bertali's works are not that easy to come by, though they are more common than they used to be. Unfortunately, his instrumental works seem more frequently recorded than any of his theatre or vocal works. They are uniformly extremely pleasant to listen to, however… with the hypnotically-repetitive ground of the Chiacona a particular favourite.
A Catalogue of his Works
The primary document that tells us what Antonio Bertali composed is a hand-written document in Vienna, known as the Distinta Specificatione (DS). Many years ago, Brian Clark took that list and transcribed it to create an online catalogue of his works, which is accessible at his website.
---
---
Music Plays from my collection
(since January 9th 2021)
| Date of Play | Time of Play | Genre | Composition | Length | Play Count |
| --- | --- | --- | --- | --- | --- |
| Date of Play | Time of Play | Genre | Composition | Length | Play Count |