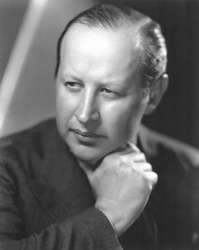 Born Eugene Aynsley Goossens in London 1893; the 'Aynsley' name is listed in bold type in the New Grove, but in brackets: it is seldom used in connection with him in his life and is accordingly dropped in these pages, too, for cataloguing purposes.
He was a pupil of Charles Villiers Stanford at the Royal College of Music for his composition lessons; so was Frank Bridge, who went on to teach Benjamin Britten.
Though he had pieces of his own work performed in London in 1912 (i.e., when he was still not yet 20 years old), he went on to become more a conductor of others' work. Prompted and encouraged by Thomas Beecham, he conducted his first opera in 1916. In 1921, he conducted the first English performance of Stravinsky's Rite of Spring. From 1923, he conducted in the USA during Winter and the UK in Summer. After the Second World War, he was appointed director of the New South Wales Conservatorium of Music and resident conductor of the Sydney Symphony Orchestra. He was also involved in getting the Sydney Opera House built: it was he, in particular, that insisted on building it on the Harbour at Bennelong Point, rather than at Wynyard, where the State Government was initially inclined to build it.
It was also, unfortunately, in Sydney that he became embroiled in sexual scandal in 1956. The police had acquired a cache of letters indicating he was having an affair with one Rosaleen Norton, otherwise known as 'The Witch of Kings Cross', because of her interest in the occult. Tipped off by the contents of these letters, Goossens was stopped and searched by Customs officials at the airport, on his return to Australia from the UK in 1956. His bags were found to contain a large quantity of what, at the time, was considered to be pornography; a rubber mask; and a 'spool of film'. He subsequently pleaded guilty to a possession of pornography charge, was fined £100 and was forced to resign from all his positions. He returned to the UK in disgrace -an experience which is said to have left him a broken man. He died fairly soon afterwards, in 1962.
He has been severely neglected as a composer since his death: my 1980 edition of the New Grove somewhat snootily says, "The key to his music's singular unmemorability is to be found in the very factors that made him a successful conductor: great technical resource and an eclectic spirit". I imagine this is an elaborate way of trying to say that his music is too clever and thus lacks 'personality'. I don't find this to be the case myself, and the growing amount of his music now available on CD seems to bear this out more generally: his music is intriguing and engaging in equal measure, with interesting textural details and a fine ear for orchestral colour. His music is not conventionally 'tuneful' or 'pretty'; it can be challenging. I find it always appealing, though. During the interwar period, he was widely regarded on the same sort of level as Bax, Walton or Bridge: I think that sort of judgment of his music is much more appropriate.
---
---
Music Plays from my collection
(since January 9th 2021)
| Date of Play | Time of Play | Genre | Composition | Length | Play Count |
| --- | --- | --- | --- | --- | --- |
| Date of Play | Time of Play | Genre | Composition | Length | Play Count |