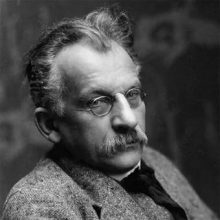 Born in Moscow, Pfitzner is definitely a German composer -though technically Germany didn't actually exist as a single country when he was born, in 1869. His father was a violinist in various orchestras (including in Russia) before becoming music director of the Frankfurt Stadttheater, for example. He went on to die in Austria (Salzburg, to be specific) in 1949, having spent most of the 1930s cozying up with Nazis and Jews more or less equally, depending on who he thought would best advance his music. Hitler was alleged to not be pleased with him (since at their first meeting in the 1920s, Pfitzner had contradicted the future Führer!) and his strictly traditional, romantic musical style was not exactly calculated to inspire the Aryan Volk.
The New Grove dictionary refers to him being widely known as 'insufferable', but also known by colleagues to be a 'high[ly] ethical man of integrity'. A bit of a mixed bag all round, perhaps!
Probably his most famous work is his opera, Palestrina, dating from 1912/15, which Groves calls 'one of the outstanding music-dramatic works of the 20th Century'. High praise indeed!
---
---
Music Plays from my collection
(since January 9th 2021)
| Date of Play | Time of Play | Genre | Composition | Length | Play Count |
| --- | --- | --- | --- | --- | --- |
| Date of Play | Time of Play | Genre | Composition | Length | Play Count |