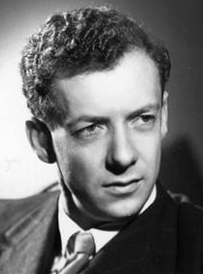 Today would have been Benjamin Britten's 107th birthday.
His music was the first 'serious' music I ever encountered, thanks to Mr. Harold Vafeas and the Senior School Choir he directed that sang "proper" music like Vivaldi, Orff ...and Britten. I hated the music Harold made us sing of Britten's. Absolutely hated it! It was difficult, complex and... "modern", at least to my ears. But if you practice a single piece for a term or more at a time, as we did, it gets under your skin, and by the time we came to give a public performance of Rejoice in the Lamb, I adored the piece.
The next year, Harold had us doing Hymn to St. Cecilia -and exactly the same problem arose! Ghastly music, difficult, awkward to sing... and by the time we'd rehearsed it for weeks on end, I loved it. I guess it helped that I landed the tenor solos in both pieces, incidentally... but the eventual affection for the works was nonetheless genuine and profoundly felt.
And thanks, too, to Mr. Andrew Akehurst, my sometime English- and Greek Literature teacher (who was a fellow tenor in the Senior Choir, getting as lost in the complex counting of Hymn to St. Cecilia as I was... or maybe he made me get lost?!) On the occasion of my leaving school and heading for the delights of a History degree at Cambridge University, he gave me his LP of Les Illuminations as a parting gesture. He played it to me first, of course: and, as per usual, I found it awful! It is one of Britten's greatest pieces, however, and I wouldn't be without it these days.
Britten's music essentially formed my musical consciousness, developed late (in my teens) as it was. I owe him everything I've ever learnt or enjoyed about music, assisted though he was by such splendid exemplars of the teaching arts as Harold and Andrew. In honour of all that, on this day, every year, without exception since about 1982, I will play nothing but Britten's music for the day. 🙂
Happy Birthday, Ben!