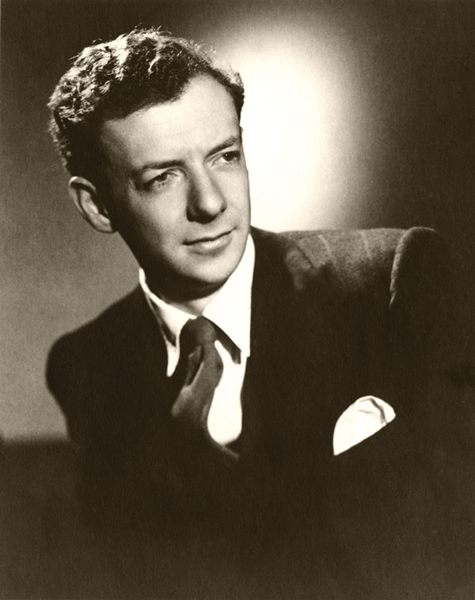 Born: November 22nd 1913
Died: December 4th 1976 (aged 63)
Britten wrote the kind of music that always sounds as if it is going to break into a tune -but doesn't. He wrote two kinds of works: vocal, which all sound as if they were written for Peter Pears to sing (and were); and non-vocal, which all sound as if they were written for Peter Pears to sing (and may have been but he was busy at the time).
He wrote uncompromisingly modern (but mainly diatonic) music. There ought to be some way of dismissing his work lightly, but its peculiar personal poetry is so utterly compelling that everyone has been forced to admit that he was probably a real genius…
(Bluff your way in Music, Peter Gammond, 1985)
Musical Biography
There are, essentially, five main stages to Britten's musical career:
Juvenile (1913 - ~1934)
Youthful (1934 - 1941)
Mature (1941 - 1961)
Late (1961 - 1972)
Indian Summer (1973 - 1976)
Juvenile
Britten was born into a thouroughly middle-class background in the East Anglian town of Lowestoft on November 22nd 1913 -which happens to be St. Cecilia's Day (who happens to be the Patron Saint of Music and Musicians). His father was a dentist; his mother an amateur musician. He was musically precocious, with the Britten Thematic Catalogue listing its first item dating from 1919, when Britten was just 5. Altogether, there are over 700 pieces known to exist from before Britten turned 18! It is fair to say, however, that quite a lot of these early pieces made little musical sense.
By the time he was 10, however, he was writing perfectly decent music: his early songs "Beware" (1923) and "O that I'd ne'er been married" (1922) demonstrate his accomplishments in this regard. His "Quatre chansons françaises" (1928) show the 15 year old in full Mahlerian mode.
During his teenage years, he was taken on as a pupil by Frank Bridge, whose distinctly European stylistic approach (as opposed to more English-sounding school of the likes of Elgar or Vaughan Williams) clearly influenced Britten throughout the rest of his career.
Britten's Opus 1 (i.e., first published work) was his Sinfonietta, a chamber piece for 5 wind and five string instruments: it's a spiky piece of thoroughly modern music written by an 18-year old student of the Royal College of Music keen to show he had assimilated Schönbergian influences.
His Simple Symphony for string orchestra was published as his Op.4 in early 1934, when he had just turned 20 …but it used material he'd written between 1923 and 1926 and thus represents another piece of 'juvenilia'.
I think one of his all-time masterpieces is A Hymn to the Virgin, a beautiful choral settings, written in 1930 and revised in 1934: definitely a product of his youth, therefore.
Youthful
In 1939, with war looming, Britten travelled to America with his partner, Peter Pears. Their intention was to move permanently, but home-sickness meant that by 1941, they were both looking for ways to return.
In the period between about 1934 and 1939/40, Britten composed some of his most significant youthful works. His Variations on a Theme of Frank Bridge (1937), Our Hunting Fathers (1936), the Piano Concerto (1938) and the Violin Concerto (1939) all date from around this time. Whilst there were some significant vocal works written (such as Les Illuminations (1939), much of the output of this period is orchestral or instrumental in nature -which, as things turned out, makes this a rather unusual period for Britten.
In a move that in retrospect looks prophetic -and what would come to seem more 'normal' for Britten- he wrote the operetta Paul Bunyan for amateur performance in America, in 1941. It was his last musical fling in America and it didn't wow the critics; he withdrew it shortly afterwards and it remained practically forgotten until he revised it in 1976, just before he died.
Mature
Between around 1941 and 1961, Britten can be said to have reached his musical maturity.
His Sinfonia da Requiem (1940) is the nearest thing he wrote to a proper symphony; Hymn to St. Cecilia and A Ceremony of Carols (both 1942) represent perhaps his greatest writing for choirs. The Serenade for Tenor, Horn and Strings is the first of his many song-cycles written for, and inspired by, Peter Pears. All are generally considered to be masterpieces.
However, the great 'change of direction' happened around 1944/45, when he started writing the opera Peter Grimes. He had, of course, dabbled with the operatic form before in Paul Bunyan, but that hadn't been a happy experience for him (Wystan Auden was difficult to work with and his poetry was sometimes hard to set to music). In Peter Grimes, however, Britten found his true operatic forté, and produced something which instantly entered the standard operatic repertoire around the world and, in one sense, can be said to have made his name internationally.
He went on to produce a string of operatic follow-ups: The Rape of Lucrtetia (1946), Albert Herring (1947), The Beggar's Opera (1948), Billy Budd (1951), Gloriana (1953), The Turn of the Screw (1954), Noyes Fludde (1957) and A Midsummer Night's Dream (1960).
Most have become 'standard fare' for opera houses around the world; all are generally regarded as masterpieces. Specific musicological appreciation seems to attach itself above all to Turn of the Screw which, despite being extremely tonal to listen to, is based on a 12-tone theme that ratchets up the tension as the ghost-story progresses.
Billy Budd is unusual in that it is written entirely for men's voices (women being something of a rarity aboard an eighteenth-century warship, where all the action takes place!)
It was noticed during this period that a consistent pattern was becoming established in Britten's output: the outsider against society (Peter Grimes); the betrayal of Innocence (Billy Budd, Turn of the Screw, Rape of Lucrtia); the corruption of Innocence (Albert Herring, Turn of the Screw). Along the same lines, a fascination with sleep, dreams and the power of night to confuse, betray or heal is also evident in such works as Serenade for Tenor, Horn and Strings (1943), The Rape of Lucretia (1946), Nocturne (1958) and -of course- A Midsummer Night's Dream (1960).
An orchestral masterpiece also dates from this period: The Young Person's Guide to the Orchestra (1946), written as an instructive piece for youngsters to learn about the make-up and sounds of the modern symphony orchestra.
Late
In 1961, Britten wrote War Requiem for the consecration of the new Coventry Cathedral (replacing the mediaeval one that had been destroyed by German bombing in 1940). It is a monumental work that immediately captured the popular imagination and became a best-seller in the classical music charts (selling over 300,000 copies in the first year).
This was the high watermark of Britten's popularity and popular appeal. It seems to have disturbed him a little, with him wondering whether his work was less 'profound' (and thus more popular) than, say, Michael Tippett's. This also coincided with a period in which Britten came to be regarded as a bit old-fashioned by the musical elites, who were keen on composers such as Boulez, Henze, Stockhausen and so on -what might be termed the plinky-plonk school of modern 'music'!
Whatever the precise triggers, the period after 1961 saw Britten withdraw a little from large-scale opera writing. Instead, he wrote a series of small 'chamber' operas, called Church Paraables, beginning with Curlew River in 1964 and following up with The Burning Fiery Furnace in 1966 and The Prodigal Son in 1968. Each is 'thinner' than the one before it, using sparse orchestration to achieve sonoric effects with heterophony (different singers and instruments playing simultaneously at different speeds) and long clusters of pedal-chords underpinning everything else.
Of the three, Curlew River is broadly regarded as a masterpiece; Burning Fiery Furnace is thoroughly enjoyable; and The Prodigal Son seems weak and an idea spun out long beyond the point where it could reasonably have been fruitful.
In one sense, Britten's next full-scale and more-traditional opera, Owen Wingrave (1970) fits into the pattern of the Church Parables quite nicely: it has brilliant orchestral effects, but the story is feeble and the work doesn't, in the end, convince, impress or delight.
Throughout this period, whilst his operatic output can be said to have faltered in quantity and quality, he returned to instrumental writing with great conviction: his new friendship with the great Soviet cellist Mstislav Rostropovich resulted in a handful of impressive cello works, such as the Cello Suites No. 1 and 2 (1964, 1967) and the Cello Symphony (1963).
Indian Summer
Britten had never been a particularly healthy individual, but by the late 1960s, it was evident that something was seriously wrong. Eventually, he was diagnosed with heart trouble that would require an operation to replace a heart valve. He delayed the operation, against doctors' advice, in order to be able to complete Death in Venice (1973). During this operation, which went on much longer than had been anticipated, Britten suffered a stroke, making it impossible for him to play the piano or to conduct (both of which activities he'd been extremely good at previously). It also knocked his self-confidence and made the physical act of writing music down on large pieces of music paper very difficult.
In consequence, he practically stopped writing new music in the 1972-1974 time-frame. Instead, he found consolation in looking back at his earlier work, revising it and re-publishing it. Thus, the long-forgotten Paul Bunyan (1941) was finally performed (on BBC Radio) in 1976. Childhood settings of Walter de la Mare were also worked up into Tit for Tat at this time.
Three undoubted masterpieces were, however, produced in this period: Death in Venice (1973), though written before his heart operation, was first performed just after it; Phaedra (1975) is practically an opera-in-minature, a vocal tour-de-force for the soprano Janet Baker; and the third and final String Quarter (1975), using themes from Death in Venice, to achieve wonderful sonorities and a fitting 'final fling' from the master.
General Thoughts
As a 20th-Century composer, Britten can sound less-than-tuneful at first listening, but he bears repeated listening very well. As you become familiar with one or two pieces, his unique 'sound-world' becomes more and more comfortable and approachable. In the end, you realise he is a very tonal composer and even his most adventurous works can then be listened to with pleasure.
Music Must-Haves
My own way of getting 'in' to the music of Benjamin Britten began with singing in choirs that performed the Hymn to St. Cecila and Rejoice in the Lamb. As choral works, they (eventually!) sound charming and have much ingenuity and technique to make them worthwhile.
Beyond those 'must-haves', however, I'd strongly recommend:
The operatic masterpieces:
Paul Bunyan
Peter Grimes
The Turn of the Screw
A Midsummer Night's Dream
Curlew River
Death in Venice
The Orchestral/Vocal masterpieces are, I would say:
Serenade for Tenor, Horn and Strings
The Young Person's Guide to the Orchestra
Violin Concerto
Phaedra
Choral masterpieces:
War Requiem
St. Nicolas
Hymn to St. Cecilia
Rejoice in the Lamb
Chamber Works
Cello Suite No. 3
Nocturnal after John Dowland
String Quartet No. 3
The Song Cyles
(These can be more of an acquired taste, especially if Peter Pears is singing):
Michaelangelo Sonnets
Songs and Proverbs of William Blake
Who Are These Children?
Other Notes
If you can get yourself to Aldeburgh in Suffolk, you will be in the heart of "Britten Country": it's beautiful and delightful and where he made his home (and an Arts and Music Festival) for nearly 30 years. The Red House (where he and Pears lived for almost 20 years) is a great place to visit.
Britten was an excellent conductor of other composer's work: if you listen to everything he conducted or performed that was written by others, you will end up immersed in Purcell, Elgar, Schubert, Mozart, Haydn, Bach and much else besides. He is, in short, a great way to 'get in' to the works of lots of other composers.
Britten was fortunate to have publishing deals with Boosey and Hawkes from an early stage of his career (the joke was, 'if Britten can write it, Boosey can hawk it'). Many fine scores are available from them.
He went on to help establish the music-publishing arm of Faber & Faber, so his later works are available there, along with a lot of his juvenilia, edited for performance after his death.
He was also fortunate to have a good recording contract with Decca. His complete works are available from them at exorbitant cost. Shop around a bit, however, and you will find various 'sub-collections' of complete operas, complete choral or complete orchestral works at a fraction of the price.
A complete online catalogue of his works is available from the Britten Thematic Catalogue website. What it lacks in looks and presentation is more than made up for by its comprehensiveness and its (relative) ease of use.
---
---
Music Plays from my collection
(since January 9th 2021)
| Date of Play | Time of Play | Genre | Composition | Length | Play Count |
| --- | --- | --- | --- | --- | --- |
| Date of Play | Time of Play | Genre | Composition | Length | Play Count |