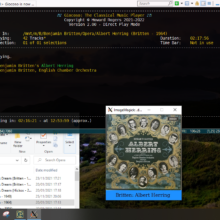 The thumbnail to this post, when clicked on, will show you a fairly significant development in the Giocoso story: it now runs on Windows!
The screenshot is of Windows 10 (fully updated, so it's running version 22H1) on my fairly ancient 2016-vintage Dell laptop, successfully playing some Benjamin Britten -complete with album art display- in Version 2 of Giocoso.
That version of Giocoso is not out yet, I hasten to add. It's still in heavy development and I won't release it for wider use until I've tested it thoroughly and documented it comprehensively. But, when it is released sometime toward the end of May or June, it will finally be possible to run it on the 20+ most popular Linux distros (as listed on Distrowatch), or on macOS, or on Windows 10 and 11, with identical functionality on any of those platforms... which I'm rather pleased about!
As I say, I'll go into much more detail when release approaches, but I'd mention in passing now that the key new features in Giocoso Version 2, apart from the cross-platform capability, are:
better distro detection and software prerequisite handling
much lower CPU usage
a persistent configuration file, avoiding the need to specify a bazillion runtime switches to get Giocoso to do things by default
lots of bug fixes and code tidy-ups
workaround for album art display on security-obsessed distros that doesn't require security hardening to be weakened
As I say, watch this space: either end of May or (more likely) mid/late June should be the go.