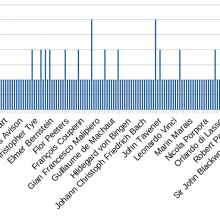 It's been a little over a fortnight since I modified my AMP player to work with a database -and, when it does so, to record every 'play' it decides on in a database table of its own.
So now, 15 days later, I can analyze that 'plays' table to determine if AMP has been doing the job I designed it for: picking a wide variety of composers and music genres, at random, and thus not creating any 'favourites'!
The first results look good. Click on the thumbnail Read More...