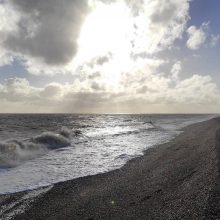 The thumbnail at the left will tell those in the know where I have spent the past day: it's the beach at Aldeburgh, in Suffolk. It was the home of Benjamin Britten and his partner Peter Pears for about 20 years from the late 1950s on.
The reason for the visit now? Well, today is 22nd November, which is St. Cecilia's Day (Cecilia being the Patron Saint of Music). It also happens to be Benjamin Britten's birthday! Coincidence? I think not!!
Of course, Britten died in 1976 (on 4th December, so if you are ever late celebrating his birth-day, you still have time to commemorate his death-day!), but Aldeburgh is a wonderful seaside town of a certain Edwardian charm and aesthetic that is still (to my mind) imbued with his spirit and presence. I love the place for that very reason: today's enormous sea accompanied by mostly brilliant sun and only the occasional cloud was a bit of bonus.
The day started with a visit to his grave: those of Peter Pears and Imogen Holst (daughter of Gustav and Britten's musical assistant in the 1950s) are immediately close-by, too. It turns out that Joan Cross (who created the roles of Ellen Orford in Peter Grimes, Lady Billows in Albert Herring and Elizabeth I in Gloriana) is also buried in the Aldeburgh Parish Church cemetary -though I didn't know where, and she's definitely nowhere near Britten, Pears and Holst. Fortunately, that part of the cemetery is laid out in mostly date-order, so if you know she died in 1993, she's relatively easy to find, and find her we did in less than five minutes.
A swift walk up the Leiston Road then took us to The Red House, Britten and Pears' home: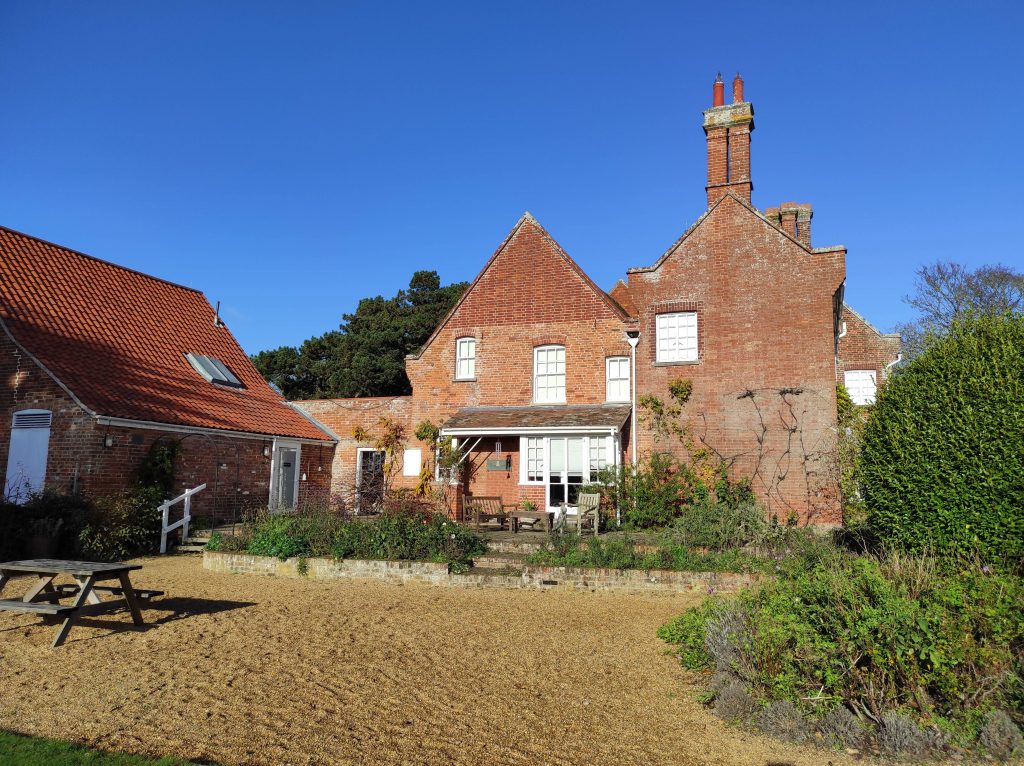 As you can see, the day had brightened nicely! The house is full of their lives together, plus an enormous collection of art and artefacts. The choir that had been due to perform Britten's own A Hymn to St. Cecilia had, unfortunately, to withdraw due to Covid, so that was a bit of a disappointment -but not much of a one, as the rest of the house and its exhibition space is full of 'wonderful things', as Howard Carter might have put it!
There was birthday cake, too: mine was a large slice of Red Velvet cake, and it was delicious.
We also popped in to the (new-ish) Red House Archive, where all of Britten's scores, books, libretti, stage designs and much else essential to his composing life is stored. A small exhibition of some key pieces has been especially laid out, including the original score of A Hymn to St. Cecila, which was a delight to see.
And then I was properly gob-smacked. On the way into the archive, the Head Archivist (Christopher Hilton) had greeted us and welcomed us and we chatted about this and that. And I let it drop, subtly, that when I'd visited the Red House in 1983 to meet Peter Pears, I'd asked Pears if he happened to have handy his copy of Shakespeare's A Midsummer Night's Dream, which he and Britten had hacked about to create the libretto for Britten's 1960 opera of the same name. He had said that he did, but he couldn't remember where it was, and one thing led to another, and my time ran out, and thus I had to leave Peter without ever having got to see it. So I told Mr. Hilton this and he said he'd hunt it down for me ...and so when we walked out of the 'proper' little exhibition, Christopher presented me with two small, cheap Penguin editions of the Shakespeare play. One was pencilled on the cover 'PP' and the other 'BB': turns out, both of them had had their own working copies!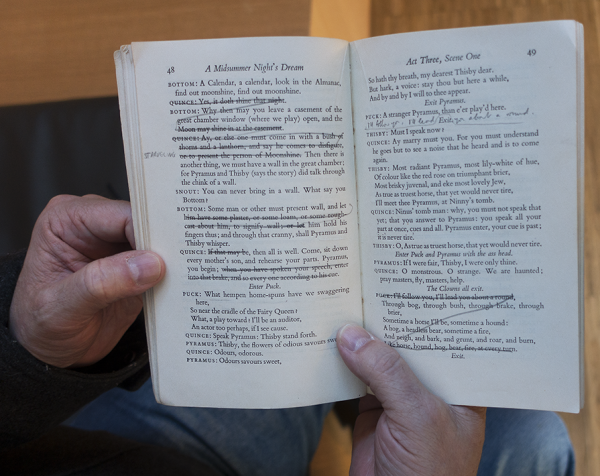 Both copies were just handed over! No gloves or special precautions: just, you asked for them, here they are! I couldn't believe it (and got quite emotional about it, I will admit!). Dr. Hilton made the point that an archive has to be useful -and if someone expresses a genuine interest in something, it's his job to help them. Which is a lovely attitude to have, frankly -and, even so, I was utterly amazed that 'helping me' involved letting me handle the originals as I would any book of my own. It was just wonderful to be actually able to touch the work of the two geniuses!
Anyway, my quick read of the books made it clear that, as it turns out, Britten and Pears hadn't just deleted large parts of the dialogue, as I had thought. Britten's own copy of the play has pencil marks indicating that what had once been Quince's line in the play should become Starveling's line in the opera (or vice versa), for example. Many such 're-assignments' of lines were visible, in Britten's own hand (I paid more attention to the 'BB' document than the 'PP' one, I'm afraid, so I can't tell you whether the same things were visible there! As an aside, I wonder if I mightn't write a paper about the comparative nature of each volume's alterations and edits, and work out how they differ and which volume is more nearly the text of what became the final libretto. There's definitely a research paper there, I reckon!)
Well, that rather made my day, I can tell you. I think I quipped, just before blubbing, that I felt as though I was handling holy relics. To be 'in' at the start of the creative process, even at this distance, was very, very special. It helps that A Midsummer Night's Dream is one of my favourite operas of Britten's.
Anyway: I had a wonderful day, and the trip was something I'll remember for a long time to come. If you ever get a chance to visit the Red House, do go. It's a magical place if you have even a passing liking for anything Britten and Pears achieved in their lifetimes. The environment and the staff there just make it all the better. I can't recommend it highly enough. I've added a new photo album of the weekend to the site, with various photos from Norwich, Aldeburgh and the Red House.