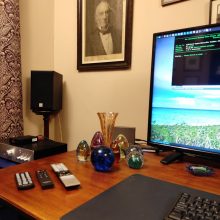 It soon being my birthday (and Christmas having just been and gone), it seemed appropriate to buy myself some presents.
The results are as you see them on the left (which you can click on, to make bigger), which encapsulates the current state of my study's approach to things audio-visual.
We may skip over the small collection of deco glass vases and paperweights, which became something of an obsession during lockdown, and which is only one of three collections in my study. We can also Read More...