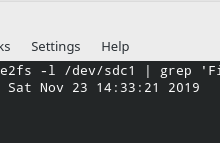 That screenshot left of this text contains the answer to an obscure-looking Linux command's query: when did the file system on my /dev/sdc1 disk partition get created?
The answer is November 23rd, 2019.
Meaning? Meaning that I installed my current desktop operating system almost exactly a year ago. Old-time readers of mine will be astonished, I think, that I've managed to maintain the same operating system installation for anywhere near that long! Past practice was for Read More...